2014 - 2017, Master program Art & Science with Virgil Widrich
University of Applied Arts, Vienna; finished June 2017
2002 - 2007, Communication science and political science,
University Vienna, finished June 2007
2017 Founding member of 280A
2019 Member of Künstlerhaus Wien
2021 Co-curator for auf! auf! artist residency program
SOLO SHOWS


2022, tbd, Raumstation Wien with Galerie Rudolf Leeb
2022, ABIES ALBA - Red Carpet Showroom Karlsplatz, Vienna
2021, of everything saved - ConClusius Güssing
2021, Extinction Ballad #9 - Landesgalerie Burgenland
2021, PALINOPSIA - OHO Oberwart
2020, SCREEN ROMANCE. I touch you when you are gone - Red Carpet Showroom Karlsplatz, Vienna
2020, PALINOPSIA - XYZ Books / a ilha, Lisbon/Portugal
2019, GLOOM OF MNEMOSYNE - Bildraum01,
Vienna
2018, TOUCHING SURFACES - OHO Obewart
2016, Folding Landscapes - NOUS, Vienna
GROUP EXHIBITIONS

2022

FLORA IRANICA
Yassi Foundation, Teheran/Iran
PARALLEL EDITIONS with Galerie Rudolf Leeb,
Semperdepot, Vienna
Proximity and Distance
Seestadt Tower
FLORA IRANICA
Aknoon Gallery, Isfahan/Iran & Safavi Historical House Isfahran/Iran

Photobook Exhibition
FOTO WIEN Festival Vienna


2021
INVICTUS.
Alserkal Avenue / Behnoode Foundation, Dubai
Hypercene/Hipercen. Duo with Mato Lagator
Room Installation for Mikrogalerija CPN, Belgrade/Serbia
Vienna Art Week Open Studio
Atelierhof Schlingermarkt
Show with Simon Lehner and Flavia Mazzanti
Salzamt, Linz (in cooperation with Bildrecht, in the program of Ars Electronica Festival)
"(K)EIN MENSCH IST EINE INSEL"
Künstlerhaus Wien
Question Me & Answer, Open Studio Days
Atelier Schlingerhof
Zeichen der Zeit
Landesgalerie Burgenland
Surface Screening
Schottentor, Red Carpet Showroom, Vienna
2020
SPACE20 temporary
Grüngasse Vienna (curated by Elsa Okazaki)
HORTUS CONCLUSUS, Skulpturenpark
Luftschloss, Vienna
light specific
minuszwei, Domgasse Vienna

"SHUTDOWN? - MIT KUNST AUS DER ISOLATION"

OHO Oberwart
STAND BY
Galerie Rudolf Leeb, Vienna
CEREBRO CON HUEVO
organized by Maximiliano León (OFFSHOREd), New Jörg and Biquini Wax EPS, Mexico City
KALEIDOSKOP
NÖ DOK - Dokumentationszentrum für moderne Kunst St. Pölten
2019
CHURCH OF EGO
U10 Art Space, Belgrade (280A)
NEVERMORE - VENT GALLERY
Parallel Vienna 2019
GUMBALLMACHINE
Kaeshmesh, Vienna
NANO//REVOLUTIONS
Espacio de Arte Contemporáneo, Montevidéo, Uruguay
Drowning land - breathing water
TAF The Art Foundation, Athens/Greece, Athens Photo Festival 2019
EVERLASTING LIGHT
TIM NOLAS, Vienna
POTENZ; DIE, WEIBLICH: II
OHO Oberwart
My point of view
Galerie Arcc.art, FOTO WIEN
VERRAT DER FOTOGRAFIE
Kunstraum Nestroyhof, FOTO WIEN
THE SECRET SHOW
FOTO WIEN Festivalzentrale, Museum Postsparkasse
VACANT DREAM STATE
EIKON Schaufenster (with 280A), FOTO WIEN
Kontrapunkte
OHO Oberwart
2018
kunst hilft. Auktion gegen Armut
Galerie ARCC.art
Schriftbilder
Projektraum Burgenland, Eisenstadt
CONNECTION
Oliwski Ratusz Kultury, WL4 Mleczny Piotr, Gdanks/Poland
Traces of Seemingly Insignificant Gestures
Ars Electronica Festival 2018, Bildrecht - Gallery Space, Linz
VARIO
Unseen Amsterdam's CO-OP with 280A, Amsterdam/Netherlands
2018, HÖHEN & TIEFEN
with David Osthoff at projectcell36, Operngasse, Vienna
"Just a little bit... respect"
EU-Art Network Artist Symposium, Cselley Mühle Oslip, Burgenland
The Infernal Machine
BETON7 (Athens Photo Festival), Athen/Greece
2017
Gallery ARCC.art
Kaiserstraße 76, Vienna
LIQUID LANDSCAPES
Showroom Ruby Marie, Vienna, with 280A Collective
The Essence
Alte Post, Vienna
Diploma exhibition
Heiligenkreuzerhof, Vienna
ARCC.art
Kaiserstraße, Vienna
2016
Non-Lieux
Johnstraße 31, Vienna
[dis]placement, Information through Sound
Citygate, Vienna
Junge Kunst
OHO, Oberwart
2015
TERRITORY
Blütengasse 9, Vienna
IT IS 3 MINUTES TO MIDNIGHT, Aesthetic Insurgency
Blütengasse 9, Vienna
Junge Kunst international
OHO Oberwart, Burgenland
CONSEQUENTIAL CHOICES, Versions of Atlas Making
AIL (Angewandte Innovation Lab), Vienna
2014
The Balls Are Ours
VBKÖ, Vienna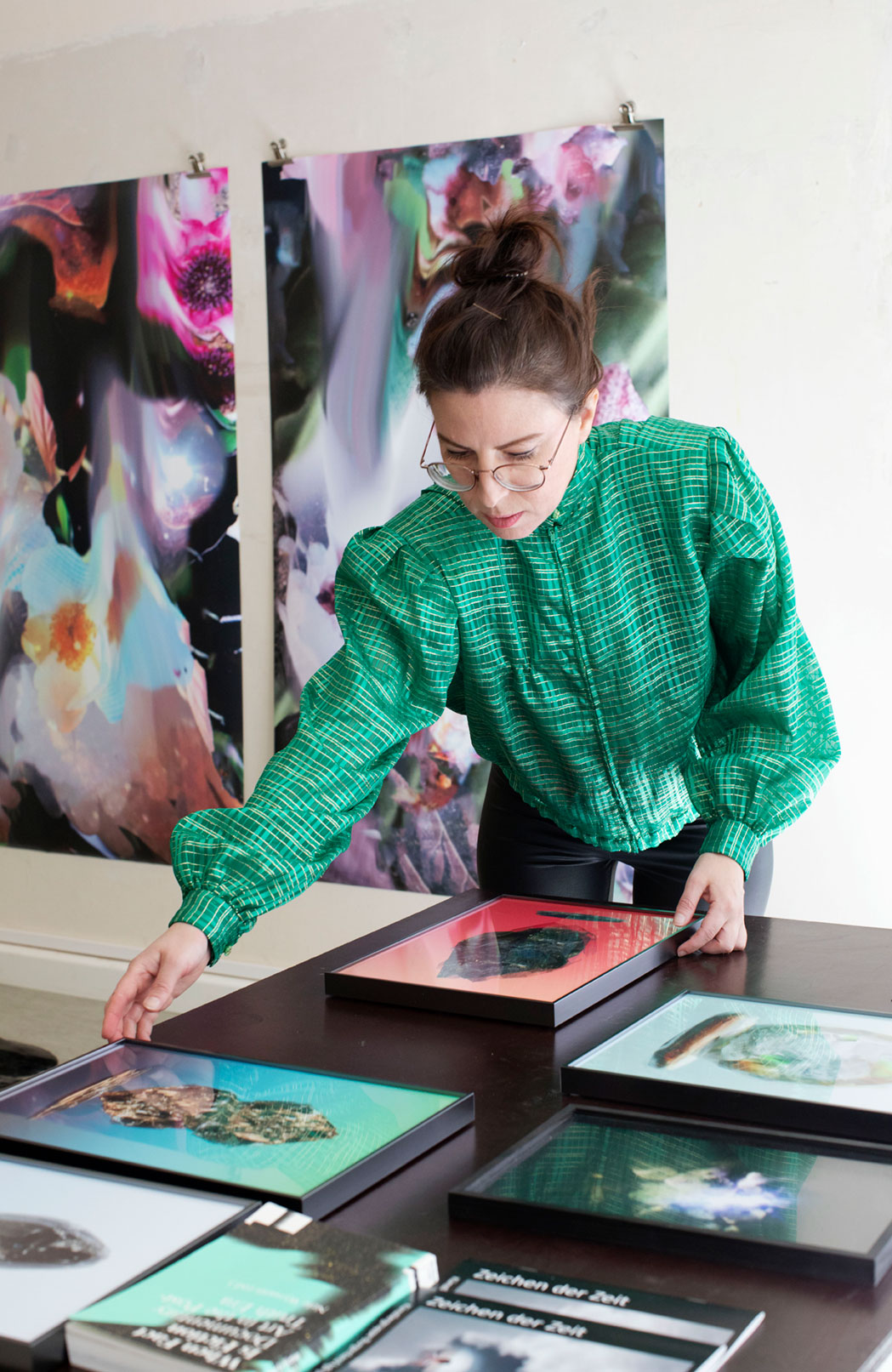 Studio portrait (c) Michèle Yves Pauty, 2021
CONFERENCES & TALKS
2021, HIPERCEN/HYPERCENE, Podium Talk about "the digital and the anthropocene" at CPN Art&Science Center, Belgrade/Serbia
2021, Artist Talk with Paula Marschalek about the artist book PALINOPSIA - Kulturankerzentrum Schlingermarkt, Vienna
2020, Artist Talk with Nina Schedlmayer - magazine presentation "morgen" - Museum Niederösterreich
2020, Guest Lecture at Wiener Kunstschule
2020, Podcast on the work Screen Romance with Galerie Rudolf Leeb
2019, Gloom of Mnemosyne, with Fabian Knierim (Westlicht Museum) - Bildraum01
2015, Changing Worlds Conference 2015 - Palais Strozzi, Vienna
2015, TEDxViennaSalon CITYx - MAK, Vienna
GRANTS/AWARDS


2023, Artist Residency Grant for Shanghai/China by BMKÖS
2022, Working Grant,Burgenland
2020, Shortlisted for Margarete.von.Willemer - Award for Digital Media
2020, Working Grant, City of Vienna
2020, Working Grant, Burgenland
2019, START-Stipendium (Foto) by BKA (Austrian Federal Chancellery)
2018, Förderpreis für Bildende Kunst Burgenland
2018, Unseen Art Trail, powered by Tesla
2018, Shortlisted for the Athens Photo Festival 2018
2017, Grant of the Salzburg International Summer Academy of Fine Arts
2015, Project Grant of the University of Applied Arts Vienna
2014, 2nd place of Innovationspreis der IG Kultur Wien
RESIDENCIES


2023, Shanghai/China by BMKÖS
2022, Burgenland-Atelier in Paliano, Italy
2020, XYZ Book Residency, Lisbon, Portugal
2019, VACANT DREAM STATE, with 280A
2018, eu-art network Artist Symposium, Oslip, Burgenland
2018, Artist Residency at Joya:AiR in Andalusia, Spain
2018, Artist Residency/Symposium in Cassis, France, with 280A
2016, Artist Residency at Hangar in Lisbon, Portugal
PUBLICATIONS
2021, PALINOPSIA - Artist Book, published with XYZ Books, Lisbon/Portugal
2020, Gloom Of Mnemosyne in morgen magazine on digitalization
2019, VACANT DREAM STATE, 280A, Issue #4
2018, Sentimental Defense, 280A, Issue #3
2018, Courage, Courage, Elevate Festival Magazine, 280A
2017, Squaring the Circle Pt. 2: Liquid Landscape, 280A, Issue #2
Publication presentations PALINOPSIA
2021: Feira Gráfica Lisboa - 4.ª edição, CHARTA Festival Rome, Paris Photo, Unseen Amsterdam, FOTO WIEN and more
MEDIA
2022, Green Art Incubator, O izložbi Hiperrealnost antropocena
2021, Les Nouveaux Riches Magazine, PALINOPSIA Artist Talk
2021, FALTER, Schwarze Spiegel mit Tapsern
2021, Zu Gast bei Alfons Haider
2020, Feature in the magazine "morgen"
2020, Podcast about SCREEN ROMANCE with Galerie Rudolf Leeb
2020, ORF NÖ
2019, Wiener Zeitung
2019, Parnass Magazine
2019, EIKON Magazine, Spring issue (with 280A)
2018, ORF Burgenland
2018, Feature for Tesla Award (with 280A)
2018, Interview with SONDER.BIO
2018, Interview with global art fair
COLLECTIONS
Works in private and institutional collections:
Land Burgenland
ING DiBa, Amsterdam
Several works with private collectors